Columns
Development of Nasal Drug Delivery System = Translational Research Business
Translational research is defined as research and development that bridges technology generated from academia to the world of business. We have been working on the Translational Research business (TR business) for approximately 20 years which aims to autonomously transform academic research results into valuable intellectual property. Since 1998, Dr. Ryoichi Nagata, Doctor of Medical Science and President of our company, and Dr. Shunji Haruta, Doctor of Pharmacy and Vice President of TR Company, have conducted research on nasal drug delivery technology based on the results of clinical trials conducted in the United States. The aim is to establish general-purpose nasal drug delivery technologies that can be applied to a variety of drugs and identify optimal formulations. We proved the concept that drugs can be absorbed effectively via the nasal mucosa which contains a vast capillary network, and nasal drug delivery technology can be useful for patients who require immediate drug effects or have difficulty swallowing (Fig. 1).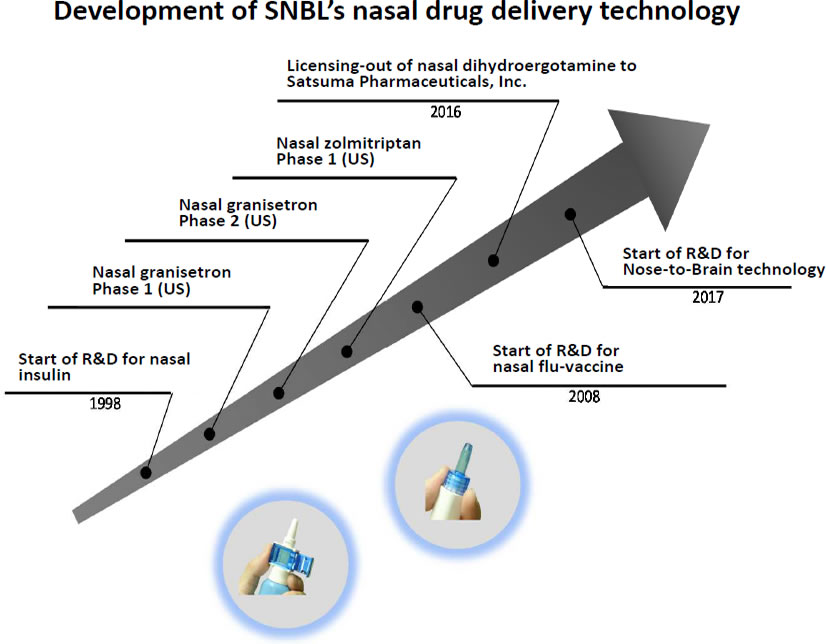 Our platform technology for nasal drug delivery is a combination system comprised of two components. One is our formulation technology which can deliver powdered drugs into the nasal cavity allowing for safe and efficient drug absorption via the nasal mucosa. The other is our device technology. We design devices that are small, easy to carry, and simple to operate. By using our nasal drug delivery system formulations optimized according to the chemical properties of low-molecular weight drugs or peptides, drug absorption can be dramatically increased when compared with existing nasal solutions. One of the main components of our formulation is a cellulose-based powder which adheres to and stays in the nasal mucosa, so the active ingredients can be effectively absorbed into the body. A device that is easy to operate with high delivery performance supports drug delivery to target sites in the nasal cavity. In addition, we have expertise in studying monkeys whose nasal structures are closer to those
of humans than to those of rodents or dogs. We also study and develop nasal influenza vaccines (can be stored at room temperature) based on the evidence that nasal administration of specific antigens increases the production of mucosal antibodies (sIgA antibodies) which are important in the prevention of respiratory infections (Fig. 2).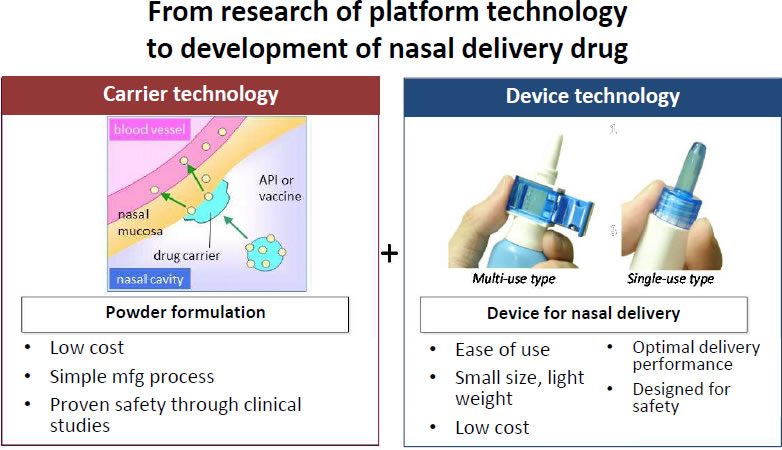 Is there an even further scope for the applications of this technology? Unmet medical needs for central nervous system diseases are numerous, and drugs for the central nervous system are a high priority development area for pharmaceutical companies. In order to deliver drugs that are unable to pass through the blood-brain barrier (BBB) to reach the central nervous system, we are designing a Nose-to-Brain system that can deliver these drugs directly to the brain via the nasal mucosa.
Using evolved imaging techniques to efficiently control the distribution of drugs in the nasal cavity, it is hoped that our nasal drug delivery technologies will help treat central nervous system conditions such as Alzheimer's disease, Parkinson's disease, and other neurodegenerative diseases that have been considered intractable. In fact, we have reported cases in which drugs that did not show brain transfer after peripheral injection could be delivered into the brain at high levels by utilizing our technology.
Translation of scientific technology to business first requires a successful case. Satsuma Pharmaceuticals Inc. was established in the United States in 2016 as a development company for a nasal dihydroergotamine product using our technology. Their target indication is migraine headaches. Using early development funding of US$12 million, Phase I clinical trials confirmed rapid, stable, and high absorption. At a meeting with the U.S. Food and Drug Administration, we agreed on the key elements of the Phase III development program to support a New Drug Application, and the clinical trials began in August of 2019. In the meantime, the company received additional funding of US$62 million and applied for listing on the U.S. NASDAQ. They were subsequently listed on September 13, 2019. On the basis of the experience with Satsuma Pharmaceuticals Inc., we will proceed with similar commercialization in Japan and overseas, and translational research to expand the possibilities of Nose-to-Brain technologies.
September 2019

Shuichi Kanazashi, Ph.D.
President
Shin Nippon Biomedical Laboratories, Ltd.