Greetings from the Representative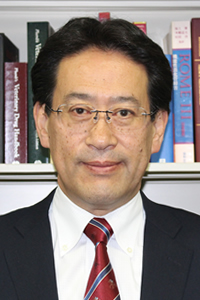 The Catalyst Unit is one of the four "Project Promoting for Drug Discovery Seeds Development" established within Project Promoting Support for Drug Discovery - Infrastructure Program for Drug Discovery Seeds Development. The Department of Innovative Drug Discovery and Development (iD3) of the Japan Agency for Medical Research and Development (AMED) plays a key role of the Project Promoting Support for Drug Discovery. AMED iD3 has established the Promotion Unit for Drug Discovery Seeds Development to support commercialization of potential new drugs by creating a bridge between valuable resources in private sector and academic research organizations (ARO) to further drug development research and enforcing Drug Discovery Support Network. The goals of the program are strengthening support network and driving force for innovative drug discovery and development. The Catalyst Unit is responsible for public relations activities, such as sharing information among the Promotion Unit for Drug Discovery Seeds Development, and providing a place for transmitting information, presenting problems, and creating discussion for stakeholders in academia, industry, and regulatory agencies.
To enhance development of drugs, medical devices, and regenerative medical products, various scientific technologies are necessary. Recently, the revisions of regulations related to application for approval of pharmaceuticals and medical devices have been advancing significantly in order to respond to review new types of medical products including antibody drugs, nucleic acid drugs, and stem cell therapies using iPS cell and accelerate their social implementation. Under these circumstances, advancement of "Translational Science" is essential for further development of R&D in the field of medicine. Here, the term "Translational Science (TS)" subsumes the exploratory technologies that bridge outcomes of basic research into the practical use of drugs, medical devices, and regenerative medical products, and the scientific technologies that evaluate efficacy and toxicity. In other words, it is important to proactively discover biomedical science research conducted by academia that may lead to translational research and translational medicine. In addition, the promotion of "Regulatory Science (RS)" is also mandatory to optimize regulations in accordance with the advancement of science and technology. For this purpose, cooperation with Ministry of Health, Labour and Welfare (MHLW), Pharmaceuticals and Medical Devices agency (PMDA), pharmaceutical companies, and medical engineering companies is critical. It is necessary to create a place where researchers of translational science and regulatory science across the globe can share their research results and inspire each other. The National Institutes of Health (NIH) and National Center for Advancing Translational Sciences (NCATS) in the US and the Innovative Medicines Initiatives (IMI) in Europe work on large national projects similar to AMED in Japan; therefore, harmonization with such overseas organizations is also necessary.
The main business of the Catalyst Unit is to publish the international e-Journal, "Translational and Regulatory Sciences (TRS)", where we can provide a field for publication of research outcomes related to TS and RS, as well as for discussions among the researchers. TRS was first published in August 2019 and a total of 60 peer reviewed papers were appeared by the end of March 2022 including 38 mini-reviews and 22 original papers. At present, we apply to PubMed Central to acquire impact factor. We have started to accommodate articles in RS area written in Japanese for domestic readers. After they are accepted, we translate into English and publish them in TRS. The Catalyst Unit would like to collaborate with organizations in academia, industry, and regulators by hosting international symposia and public relations activities through this website. I appreciate your understanding and cooperation for our activities.
April 2022
Masatoshi HORI, D.V.M., Ph.D.
Representative of AMED iD3 Catalyst Unit
Professor, Laboratory of Veterinary Pharmacology
Head of the Department of Veterinary Medical Sciences
Graduate School of Agriculture and Life Sciences,
The University of Tokyo