Columns
Challenges to "Reverse Value Generation" Drug Discovery
The purpose of

iD3 booster is "to accelerate the practical application of outcome of basic research at academic institutions" and ultimately to achieve commercialization lead by a pharmaceutical company at some stage. Drug discovery, which we are trying to do now, may be in the opposite direction. There is no difference in terms of making full use of academia's functions. However, for us, "seeds" mean the asset that have already developed at a pharmaceutical company. Nursery trees and young trees might be more appropriate words than seeds. Those young trees are quietly sitting on the shelf of the pharmaceutical company.
I have worked in pharma industry for a long time, and seen a number of R&D programs discontinued due to company's strategy changes. In fact, from a 3-year survey between 2013 to 2015, it turned out that 15% of Phase 2 and Phase 3 clinical trials were discontinued for strategic reasons (Harrison RK, 2016, Nature Drug Discovery, 15,817-818). Many of those discontinued assets would not be developed again and "shelved." However, it is never the case if these assets have no longer value. We believe that if we can trigger development, it is highly possible that the "shelved" assets will become as new medicines that matter for many patients in the future.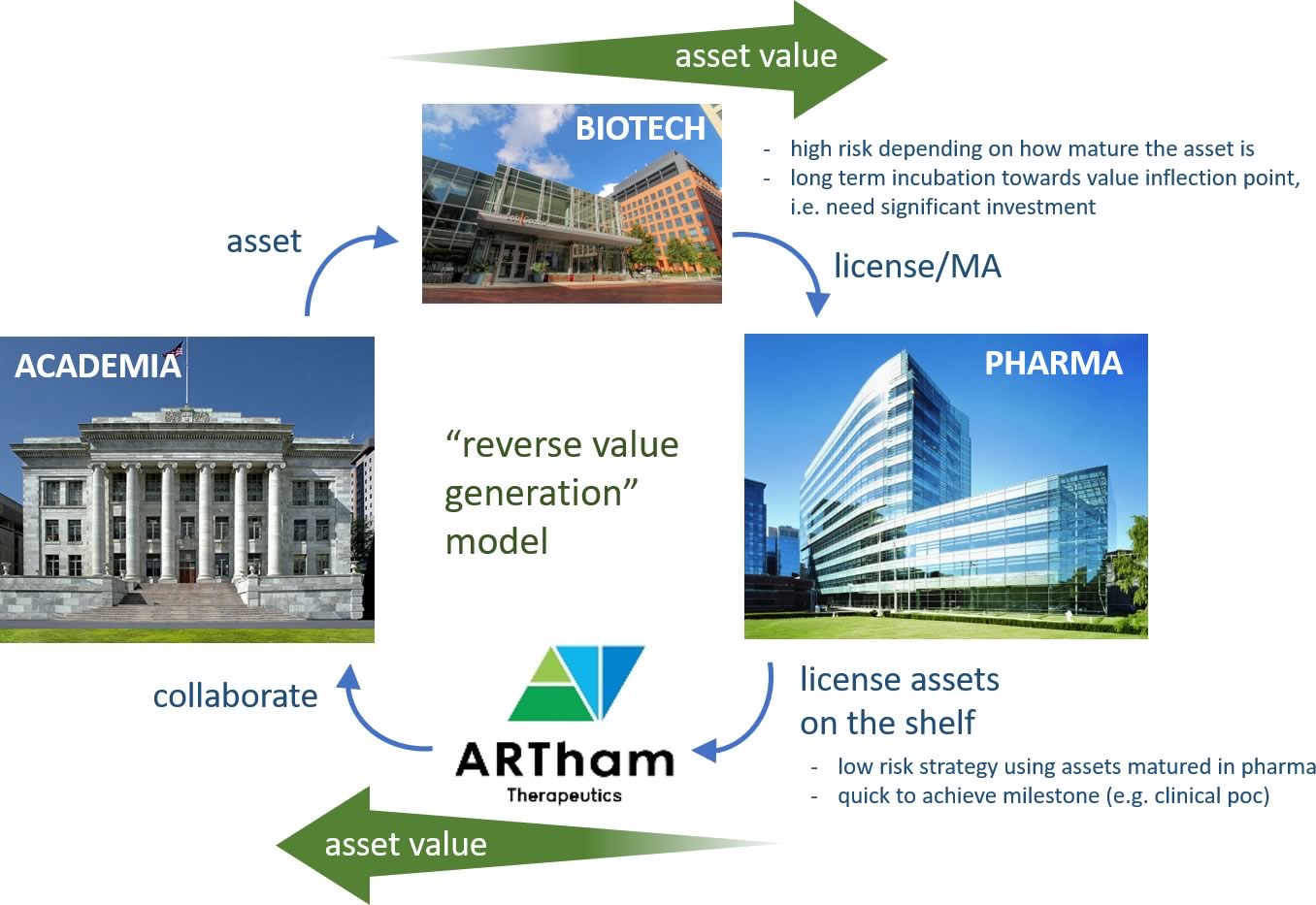 To create such a path," I established

ARTham Therapeutics (ARTham) together with Dr. Naoto Uemura, Professor of Department of Clinical Pharmacology & Therapeutics at Oita University, Faculty of Medicine, and former colleagues at Takeda Pharmaceutical Company (Takeda). ARTham is designated as a biotech from Oita University, and we have now formulated a framework where ARTham can reach out and fully utilize the functions of academia. This includes the Oita University Pharmaceutical Development Cluster, which comprehensively integrates a number of necessary functions required for the development of innovative medicines. Upon ARTham's launch, we in-licensed discontinued clinical assets from Takeda, and have worked collaboratively with local and EU/US academic institutions to develop these assets. The key is a drug discovery approach called drug repositioning or drug repurposing. This is to "develop existing medicines for new indications outside of the original use." In fact, ARTham's assets were originally developed for the treatment of type II diabetes mellitus and solid cancer at Takeda. We are currently working on the assets targeting for autoimmune skin disorders, non-alcoholic steatohepatitis, and refractory vascular malformations. There are multiple initiatives for drug repurposing led by public agencies and pharmaceutical consortiums.

Discovering New Therapeutic Uses for Existing Molecules program, which is led by the National Center for Advancing Translational Sciences (NCATS) of US National Institutes of Health is a good example. Another example is JOINUS®, which is joint efforts made by Astellas, Mitsubishi Tanabe Pharma, and Daiichi Sankyo. But, drug repurposing, which ARTham is trying to do is not a "Cast a wide net" approach. We generate hypothesis first through discussions with medical specialists and our own research, and then effectively verify them through collaboration with academic institutions. We are trying to make it happen via a small, efficient organization. Our program for vascular malformation may be a typical example of ARTham's "reverse value generation" model. Through our collaboration with Oita University, we generated the hypothesis that one of assets, which was discontinued at Takeda, effectively treat refractory vascular malformations. We are currently pursuing development of the asset by grants from the AMED and collaborations with key opinion leaders in Japan as well as outside Japan.
To establish the ARTham model as a new approach to drug discovery and provide the deliverable as new treatment options for many patients in the future, strong industry-government-academia collaboration is truly required. It is important to start with gaining an understanding of our efforts of drug discovery using new approach.
November 2019
Hiroshi Nagabukuro, Ph.D.
COO/CSO, ARTham Therapeutics
Adjunct Professor, Oita University, Faculty of Medicine,
Department of Clinical Pharmacology & Therapeutics
Dr. Hiroshi Nagabukuro has been engaged in Pharma R&D in Japan and the United States for 23 years and established ARTham Therapeutics in July 2018. Since April 2019, he has also served as an adjunct professor of Faculty of Medicine at Oita University.