Columns
Drug Discovery in Academia – Initiatives by NIBIOHN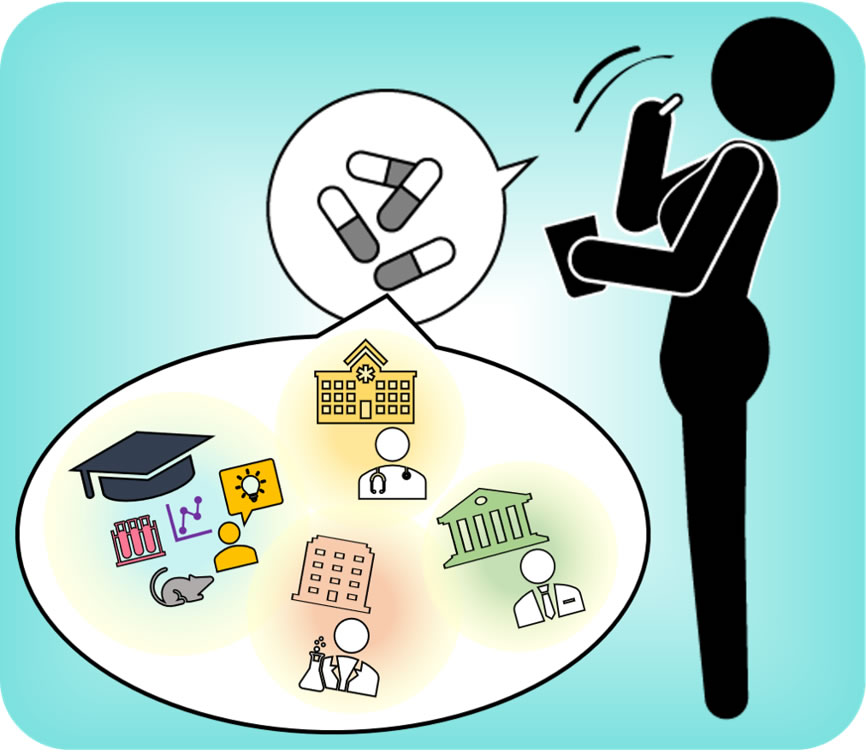 The National Institutes of Biomedical Innovation, Health, and Nutrition (

NIBIOHN) was established in April 2015 as an independent administrative entity under the control of the Ministry of Health, Labour, and Welfare (MHLW), by integrating the National Institute of Biomedical Innovation (

NIBIO) and the National Institute of Health and Nutrition (

NIHN). The goal of NIBIO is to support the development of innovative pharmaceutical and medical products, while the objective of NIHN is to help improve the health and well-being of the Japanese population through surveys and studies on hygiene, nutrition, and diet. NIBIOHN and Japan Agency for Medical Research and Development (AMED) were established in the same year.
NIBIO, located in Ibaraki City in Osaka, launched the Center for Drug Design Research at the same time as its integration, aiming at accelerating drug development in academia. In addition to the Administration Division, the Center is expanding to have eight project teams at the moment. The eight project teams are: Laboratories of Proteomics for Drug Discovery, Innovative Antibody Engineering and Design, XNA Screening and Design, Medical Plant Screening, In-silico Drug Design, Pharmacokinetic Optimization, Cell Network Regulation, and Bioimaging and Drug Discovery. 
NIBIO believes that partnership is a key pillar of its mission, and aims to become a coordinating hub for industry-academia-government (including local government) collaboration. In 2016, the Center welcomed a new director with ample private-sector work experience and better prepared to deal with academia-industry partnership. In 2017, he was appointed as the director of NIBIO and has since newly established the Center for Vaccine and Adjuvant Research and the Center for Rare Disease Research, and promoted academia-industry partnerships and contribution to society. Another pillar of NIBIO's mission is to provide assistance regarding drug discovery. Under the national Drug Discovery Support Network initiative, NIBIO is actively engaged in assisting drug discovery efforts as a core member of the network together with AMED, RIKEN, and National Institute of Advanced Industrial Science and Technology (AIST).
From FY2019, NIBIO takes a part of Public/Private R&D Investment Strategic Expansion Program (PRISM) by Cabinet Office and promotes drug development utilizing AI. Specifically, the Artificial Intelligence Center for Health and Biomedical Research is established and promote drug development with partnership with medical institutes focusing on seed-finding researches only AI can identify.
Relocation of the National Institute of Health and Nutrition (NIHN), from Shinjuku, Tokyo to Northern Osaka Health and Biomedical Innovation Town (KENTO) in Suita City in Osaka, is scheduled. The organizational restructuring of NIBIO and NIHN opened the door to new domains of research that span the expertise of the two institutes. One example is a new project on microbiota. Before the organizational integration, NIHN was engaged in an ongoing prospective cohort study of Tokyo residents. In 2015, this study was expanded to include research on intestinal flora in the healthy population, and NIBIO scientists were assigned responsibility for the main analysis. In 2016, this program was further expanded to include residents of Shunan City, Yamaguchi, and Minamiuonuma City, Niigata, to elucidate the relationship between microbiota and lifestyle factors, including diet and exercise, etc.
We remain committed to advance researches steadily leading to innovative medical products, world-class health care, and healthy longevity.
April 2019
Yoshihiro Yoneda
Director General
National Institutes of Biomedical Innovation, Health and Nutrition